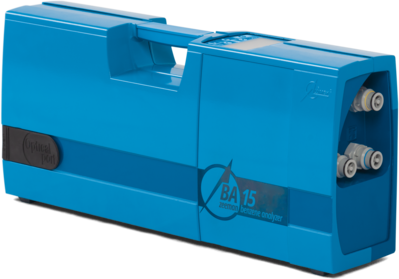 BA-15 Benzene Analyzer
BA-15 is a multifunctional benzene analyzer based on the differential absorption spectrometry using the direct Zeeman effect.
Due to the low power consumption and light weight the spectrometer is especially useful in the natural gas production and processing industries, in which benzene is often main toxicant.
The BA-15 Analyzer is intended for measuring BENZENE vapour concentration in the ambient air and in the air of residential quarters and production areas.
The analyzer can be used for on-stream measuring of BENZENE vapour concentration in the air both in a stationary mode and for continuous survey from vehicles.
The analyzer is a useful tool in industrial hygiene, ecological monitoring, technological process control and scientific research
FEATURES AND BENEFITS
Simple to operate, fully automated, self-validating analyzer
Real-time operation mode
Low detection limit and high selectivity
Built-in test cell and auto zero function
Wide dynamic measuring range
Controlled by a keypad or a computer via USB interface
Data logger for 122 hours of data acquisition, averaging, and storage
Rugged/Versatile design for indoor and field applications
Rechargeable battery for up to 12 hours of operation
PRINCIPLE OF OPERATION
Differential absorption spectrometry with the direct Zeeman effect for interference-free measurement of the benzene concentration in air and gases.
EQUIPMENT AND OPTIONS
The basic delivery set includes BA-15 portable benzene analyzer with the Monitoring Data Viewer software, intake hose/filter, charger, cables, shoulder bag, manual.
The analyzer can be equipped with a PDA computer for remote monitoring and data transmission.
WARRANTY
All Lumex Instruments equipment are covered by a 12-months warranty.
SERVICES
Our service engineers can install Lumex Instruments equipment and instruments at a Customer's site and can provide personnel training specific to the Customer's needs.
Continuous measurement in air (gas) flow
| | |
| --- | --- |
| Measurement range | 0.1 – 500 mg/m3 |
| Averaging interval | 1 s – 5 min |
| Zero drift correction | Automatic |
| Air flow rate | 7–10 lpm |
Dimensions, Weight, Power requirements
| | |
| --- | --- |
| Dimensions | 470x110x210 mm |
| Weight | 7 kg |
| Power supply | 90–240 VAC, 50/60 Hz, 12 VDC |
| Power consumption | 40 W |